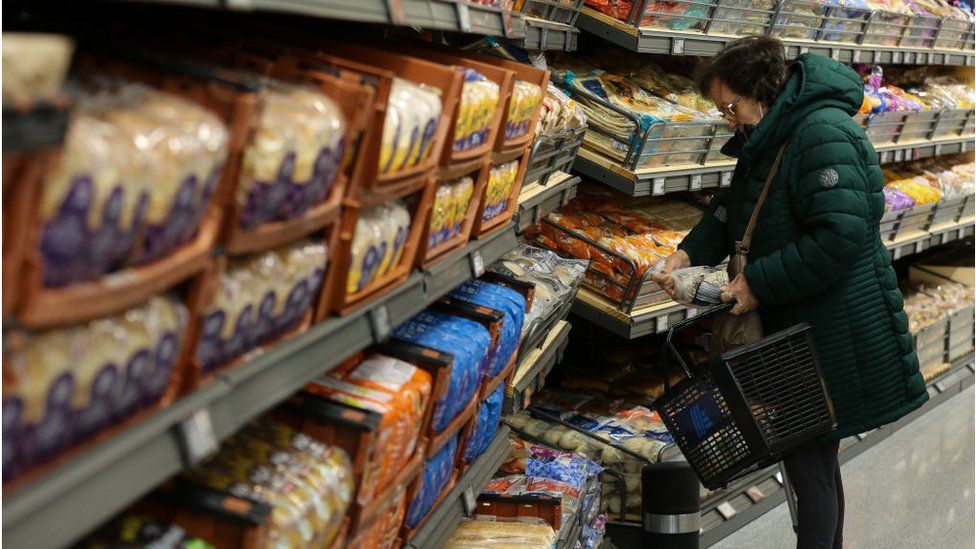 Aldi has overtaken Morrisons to become the fourth largest UK supermarket for the first time, according to data from research firm Kantar.
Discounters are grabbing more market share as shoppers take steps to manage their budgets, Kantar said.
Food prices are rising quickly, and are helping to push up prices generally, as energy costs soar.
Kantar said food price inflation hit 12.4% in August, with the average annual grocery bill rising to £5,181.
Inflation in the UK has been soaring, with living costs eating into household budgets.
"Shoppers are taking steps to manage their budgets including broadening the range of stores they visit, with the discount grocers benefiting," said Kantar head of retail and consumer insight Fraser McKevitt.
Shoppers are also cutting back on spending by buying more own-brand products.
Kantar said Aldi's sales rose by almost a fifth in the 12 weeks to 4 September compared with a year earlier, giving it a market share of 9.3%.
In contrast, Morrisons' sales dropped by 4.1%, with its market share falling to 9.1%.